The New Nurse Survival Guide
How to feel calm, cool, & confident your first years as a Nurse, transitioning to the ICU and beyond!
CLICK TO PURCHASE FOR $147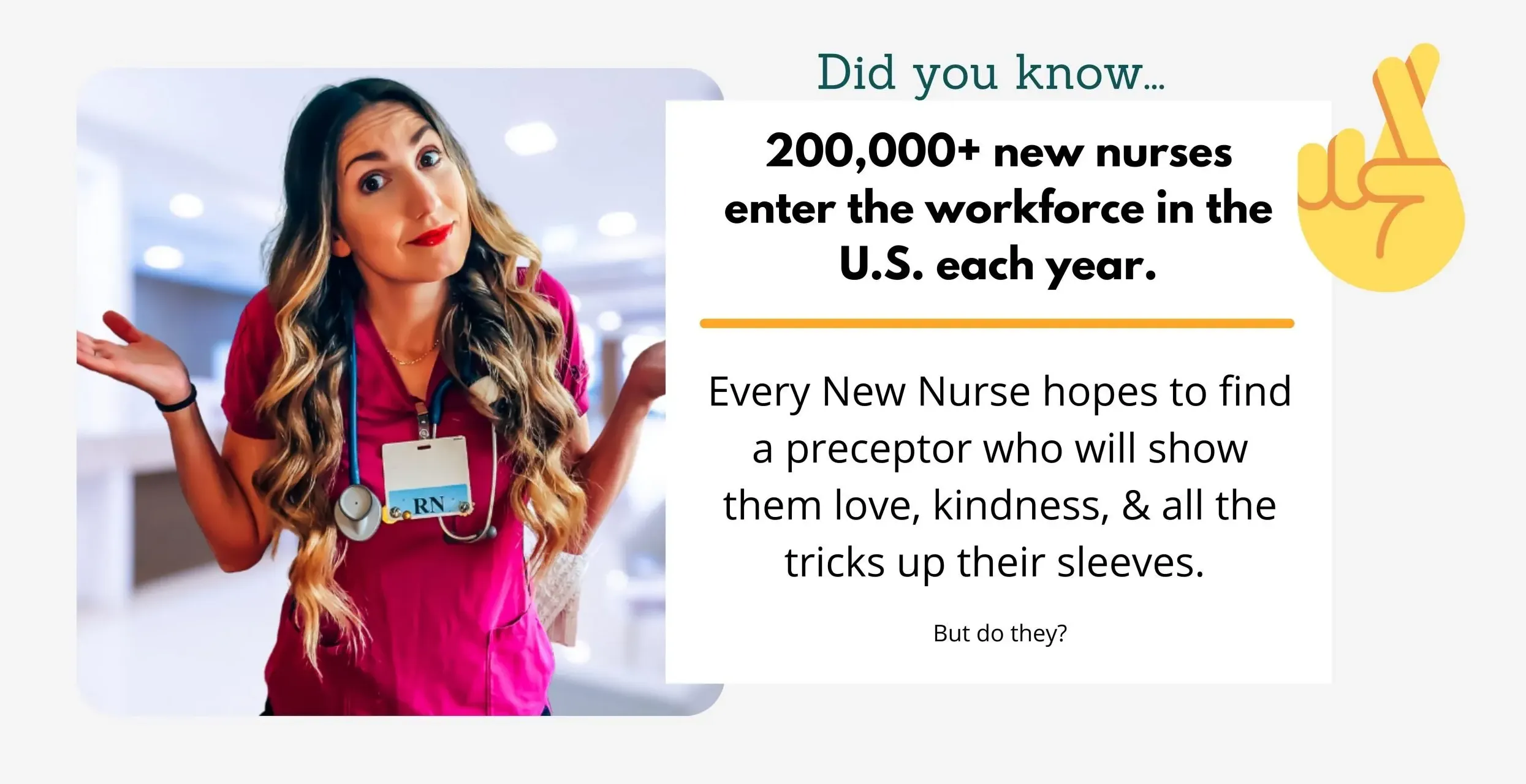 You know it exists—and you don't know what to do about it…


The New Nurse Jitters…
Symptoms include:
Pit stains due to pre-shift anxiety

A shaky voice as you give report

2 minute stairwell crying sesh (Thanks, Brenda! You didn't need to call me out like that.)

And general lack of confidence at work
You made it through so much already!
Nursing school, the NCLEX, orientation, & now—Ding Dong!


It's like Amazon delivered something you didn't even order! Another obstacle—packaged as that intimidating senior nurse.
Brenda—She gets it! Someone's life is in her hands now. She is the one responsible. People are looking to her for help & answers.


Enough with the pressure already!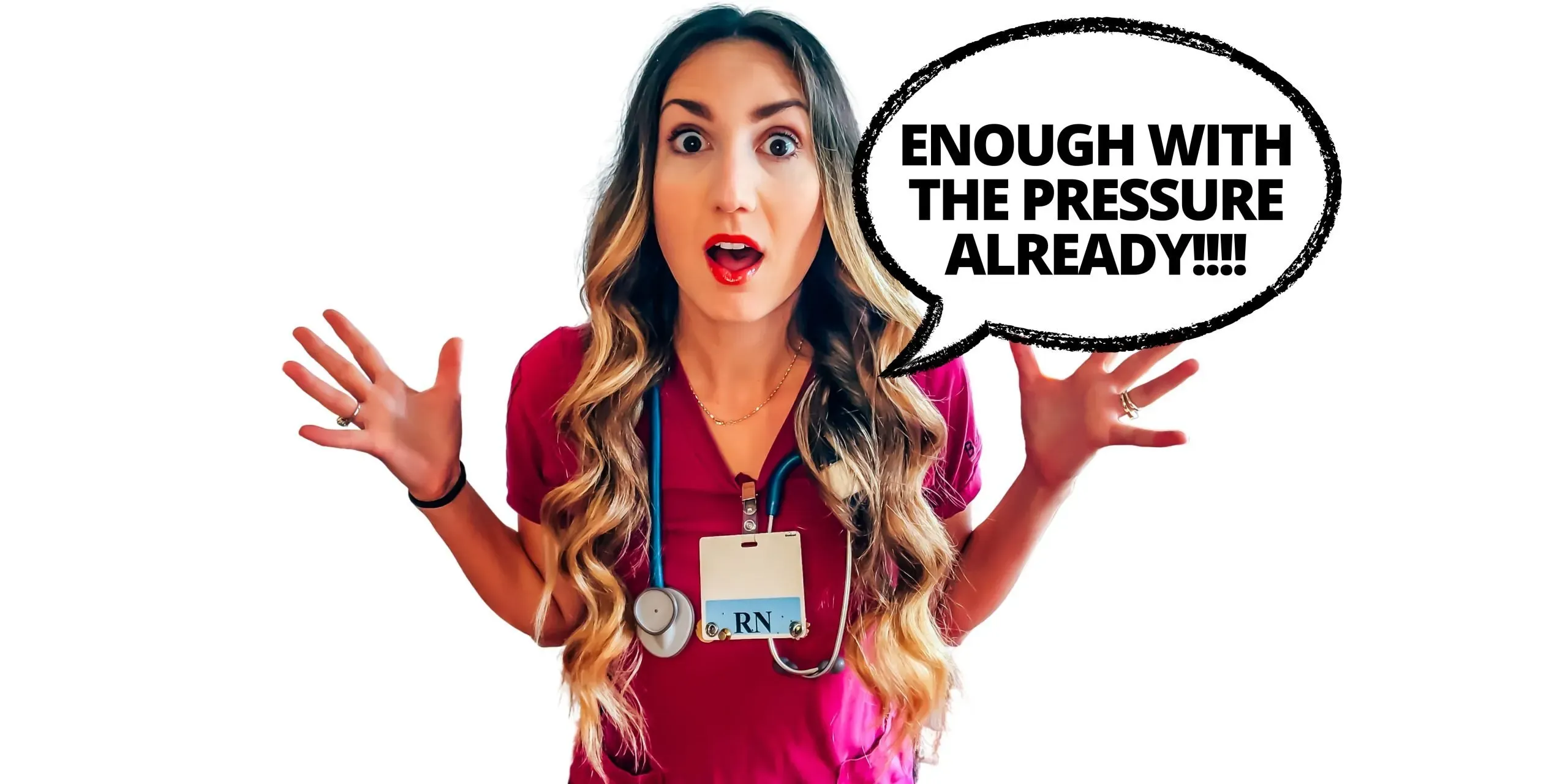 Around 200,000 new nurses enter the workforce in the U.S. each year, according to the National Nurses Association.

Most new nurses haven't met a Nice Senior Nurse who will show them love, kindness, & all the tricks up their sleeves.
You could hope you end up with a Nice Nurse Preceptor—
A Senior Nurse who supports you, helps you learn from her mistakes, & shares her best nurse tips with you.

After working with her—you know what to say & when to say it, how to look (& feel) confident, & understand common labs & tests.
Feeling confident, less anxious, & more in control of your work is possible… with the right guidance.
If you don't have a supportive senior nurse at your hospital—what's the next best option?
Nurses should
Teach

their young! New Nurses are bright, hopeful, ready-to-learn sponges who should be doused with knowledge & love—Not wrung out & left all alone in the hot Florida sun.


I've made a lot of mistakes & learned so many things the hard way. I don't want you to struggle the same way I did.

Every new nurse deserves a kind-hearted nurse preceptor. And I'm here for You—if you're in the market for a Nice Senior Nurse.


Ready to learn how you can handle your first year as a nurse—with more confidence (& support) than you've
ever

had?


Presenting…
The New Nurse Survival Guide
This is 
the
 New Nurse Resource for you, 
if
 you:
thrive with unconditional love & support (

rainbows not included

)


feel this deep sense of dread each day on your way to work 


could use a nurse schedule template to organize your shift


want to feel confident giving & initiating report


would love to build your confidence at work


have nightmares about being judged by Senior Nurses



you're transitioning to the ICU and need some extra training for deace of mind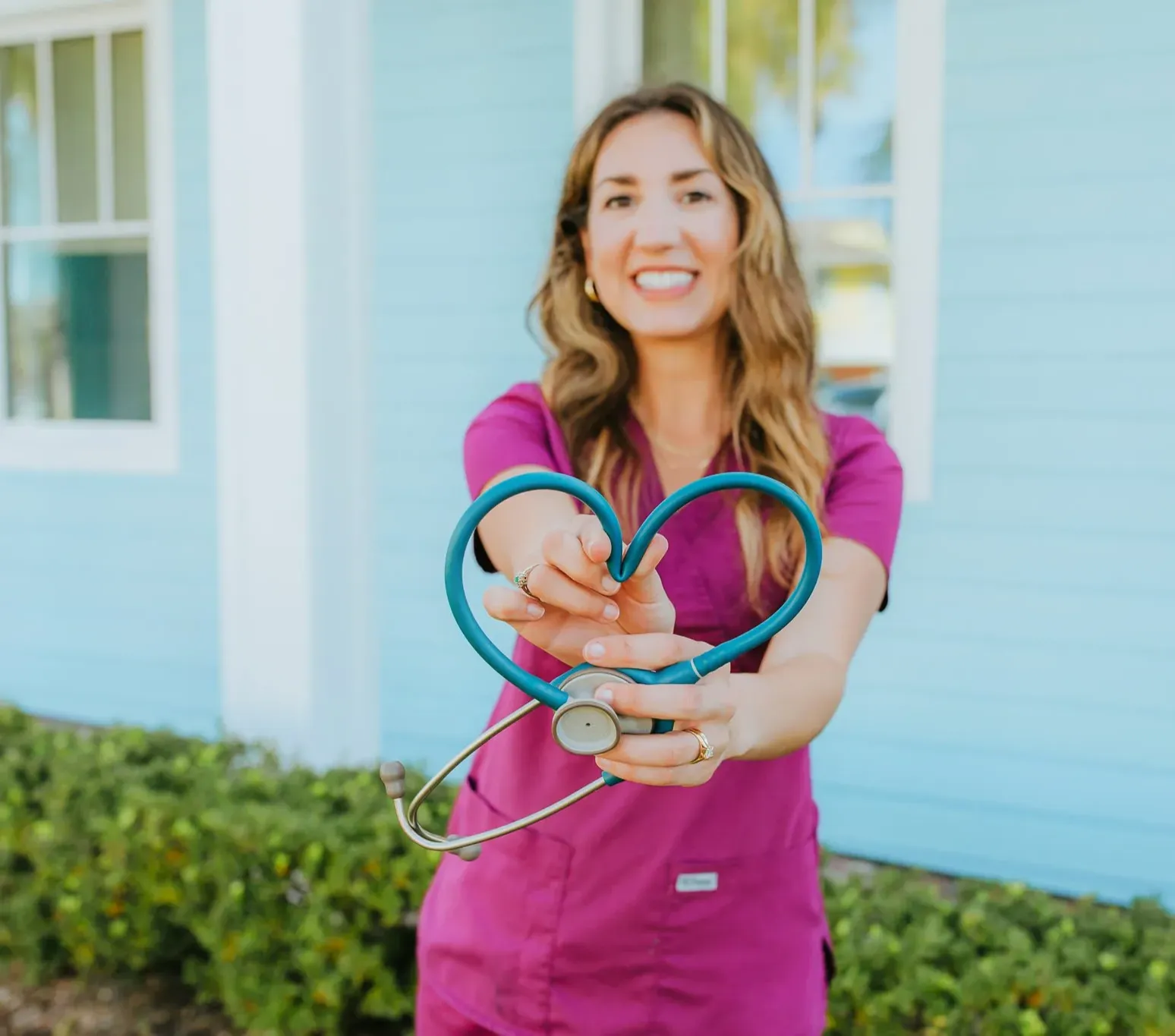 With this New Nurse Survival Guide tucked in your scrubs pocket you'll—
Meet a Nice Senior Nurse (ME!) —finally feel heard & supported

Stop feeling dumb just because you're the new kid on the block

Notice a boost in your confidence—not just at work, but in your life

Feel comfortable talking to doctors—so you can do your job with ease

Learn how to initiate (& give the best) report—no more pre-shift anxiety

Discover how to handle making mistakes (because they're going to happen)
You
could

just roll the dice, cross your fingers, & hope the universe sends you a Nice Nurse Preceptor—

Possibly delaying your personal growth and growth as a new nurse.
And maybe spending your commute to & from your shift feeling dumb & sad.
Or—
You could get
The New Nurse Survival Guide &

guarantee

you'll be working with a Nice Senior Nurse.

A senior nurse who hundreds of new nurses already trust with their Baby Nurse hearts & minds.

CLICK TO PURCHASE
The New Nurse Survival Guide
Table of Contents
Introduction
Welcome Video
Printables to Take to Work 
The In's & Out's of Being a Floor Nurse
Downloadable ebook version
Patient Care
Running a Code Blue / Rapid Response with Confidence
Head-to-Toe Assessment Skills
EKG Interpretation Made Easy
Common Labs & Tests Explained
Master Starting an IV
Time Management for your 12 Hr Shift
The Non-Patient Sides of Nursing 
Managing Your Stress
Perfecting Your Skills
How to Handle the Gross Stuff
Dealing with Difficult Coworkers & Bullies
Mistakes, Medication Errors, Incident Reports
New ICU Nurse – Critical Care Prep
Printouts: 
The most common ICU drips and medications, 
Impella device management, waveforms explained, troubleshooting
How to perform Transvenous Pacing
Therapeutic Hypothermia / TTM device management
Nursing Care for Swan Ganz Cath
Arterial Lines – inside & out
Intra-Aortic Balloon Pumps – become an expert
Initiating & Maintaining CVVH (Continuous Venovenous Hemofiltration, 
ECMO
How to care for vented patients and understanding the settings
Nurse Communication in Every Scenario
Introduction to Finding Your Voice
How to Initiate Report
How to be Courteous to the Next Shift
How to Give the Best Shift Report
How to Talk to the Providers/Doctors
Giving Report to Other Facilities
Leaving the Floor/ Going on Break
Giving Report to Other Departments
Nursing School Content Review 
Anatomy & Physiology
Critical Care
Critical Skills
Fundamentals + Health Assessments
Labs
Maternity
Prioritization & Delegation
Mental Health
Pharmacology
Conclusion 
The New Nurse Survival Guide is a wealth of knowledge that I know you will carry with you for the first few years of your nursing career. I do recommend it for the first 1-3+ years of Registered Nursing and New ICU Nurses. 
Invest in your career today and be a confident impressive nurse!
I'M NURSE MEG...
Registered Nurse, Nurse Educator,
Study Coach, & Mentor.
---
I have been a nurse for more than a decade. I have experience in the ER, Med-Surg, Pre-Op, PCU, CVICU, Step-Down, Nursing Homes, Rehab Center, and More!
Over the years, I have developed a passion for teaching nursing students and new nurses.
I strongly believe there is a knowledge gap between nursing school and REAL LIFE!
I am here to fill that gap with my free resources and online courses.
---
Less Struggle | More Confidence | Higher Pass Rates
I am here to help nurses and students

SUCCEED

in their healthcare journey.
FREQUENTLY ASKED QUESTIONS
How long do I have access to the course?
What's included in the course?